Originally posted at Con or Bust by Tex Thompson. All comments must be made there.



Item Name & Description: I'll critique up to 10,000 words of your original fiction or narrative nonfiction. (Short stories welcome; no fanfiction, academic writing, or poetry.) You can choose one of three critique types:




1) Content edit: a holistic review of the story structure, plot, and pacing with recommended changes – a more thorough version of the edit letter you might get from an editor at a traditional publishing house. Example: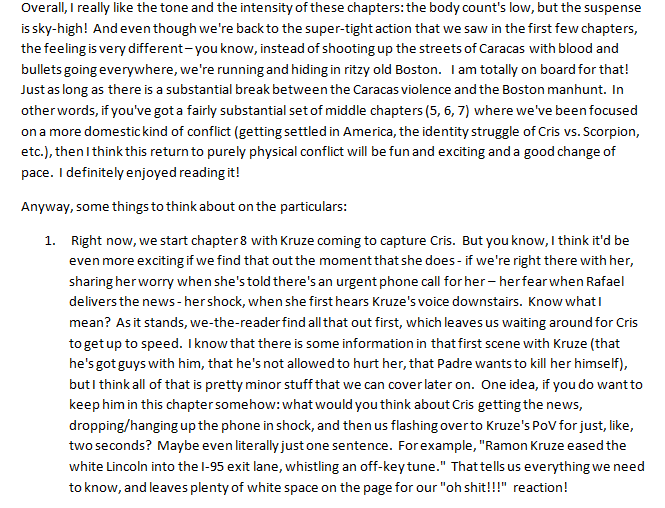 2) Line edit: a more detailed critique of lines and paragraphs, focusing less on the story and more on the telling. Emphasis on improving dialogue, streamlining the narrative, and punching up the prose. Example: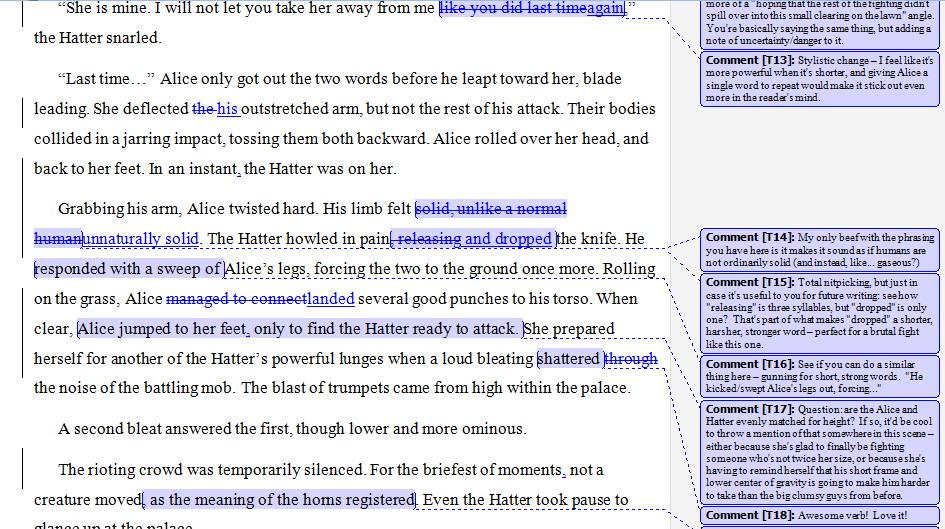 3) Copyedit: going through individual words and sentences with a fine-tooth comb. No substantial changes – just correcting grammar, spelling, capitalization, and punctuation, and flagging awkward, misused, or redundant words/phrases. Example:
Regardless of which critique you choose, I will be glad to customize my work: if there are any particular questions you have or story elements you'd like to receive special attention, just let me know. Most clients describe my style as thorough, insightful, and positive/constructive. Don't choose me if you're looking for a ruthless drill sergeant to pulverize your manuscript!
As for me: I'm a traditionally-published author and writing instructor with a master's degree in English and several years of professional editing experience. I teach for the DFW Writers Conference, the Loft Literary Center, and this year am chairing the ApolloCon Writers Workshop in Houston. I'm also an active member of the DFW Writers Workshop, one of the oldest and largest critique groups in the southern US. My full bio is available online. Please feel free to contact me with any questions. Happy bidding!
Starting Bid: $10
Notes: For line editing and copyedits, I generally use MS Word's "Track Changes" feature, but am glad to work through any digital medium. Once I've received your manuscript, please allow two weeks for critique.
Bidding is now open. It closes Sunday, May 3, 2015 at 4:00 p.m. (time zone conversions, countdown) unless bids are received in the last ten minutes (learn more).